Park Union Bridge | Diller Scofidio + Renfro
PROJECT CREDITS
Location: Colorado Springs, Colorado
Owner: City of Colorado Springs
Architects:
Diller Scofidio + Renfro, Desgin Architect
Anderson Mason Dale Architects, Architect of Record
Total Project Cost: $20 Million USD
Dimensions
Length: 250′
Height: 25′ above ground level
Height from deck to top of arch: 17′
Width: 16′ – 23′
Weight: 550 tons
Number of Section: 6
Materials
Shell: Painted structural steel
Liner: Painted metal panels
Deck: Concrete
Elevator: Glass
Additional materials: Stainless steel cable mesh, comfort rail with integrated lighting
Project Team
Design Architect: Diller Scofidio + Renfro, (Partner-in-charge: Benjamin Gilmartin)
Architect of Record: Anderson Mason Dale Architects
Structural Engineer: Arup
Structural Engineer (Bridge Abutments): KL&A
Railroad Consultant: Felsburg Holt & Ullevig and FUHueng
Steel Fabricator: KING Fabrication
General Contractor: Kiewit Construction
Lighting: Tillotson Design Associates
Onsite Inspector: Terracon
United States
Colorado
版权声明:本链接内容均系版权方发布,版权属于 Diller Scofidio + Renfro,编辑版本版权属于设计宇宙designverse,未经授权许可不得复制转载此链接内容。欢迎转发此链接。
Copyright Notice: The content of this link is released by the copyright owner Diller Scofidio + Renfro. designverse owns the copyright of editing. Please do not reproduce the content of this link without authorization. Welcome to share this link.
© Jason O Rear
Designed by the same team as the adjacent U.S. Olympic & Paralympic Museum complex, the Park Union Bridge takes its inspiration from the gravity-defying motion of athletes, with a 250-foot curved steel structure that floats above an active railyard. Two interlocked loops, stretching from either side of the railyard, connect the museum and America the Beautiful Park. The bridge is an exercise in fitness – both in terms of material and geometry. The hybrid steel structure system functions as an arch and a truss, elegantly preserving views from downtown to the majestic mountain ranges of Pikes Peak.
© Iwan Baan
© Iwan Baan
© Jason O Rear
© Iwan Baan
The bridge stitches together a growing network of pedestrian bicycle paths including the Pikes Peak Greenway and Midland Trail running alongside Monument Creek, with a generous width that safely accommodates pedestrians and cyclists alike. At its widest point, an oculus at either side of the bridge frames the museum and downtown to the east, a platform for trainspotting below, and a distinct look out to the Rocky Mountains to the west.
© Iwan Baan
© Iwan Baan
© Jason O Rear
© Jason O Rear
© Jason O Rear
© Jason O Rear
© Jason O Rear
In the evenings, lighting along the bridge traces a single vector from one side of the tracks to the other, giving a sense of speed and motion while providing illumination for pedestrians and cyclists.
© Jason O Rear
© Jason O Rear
© Jason O Rear
© Jason O Rear
© Jason O Rear
© Jason O Rear
© Jason O Rear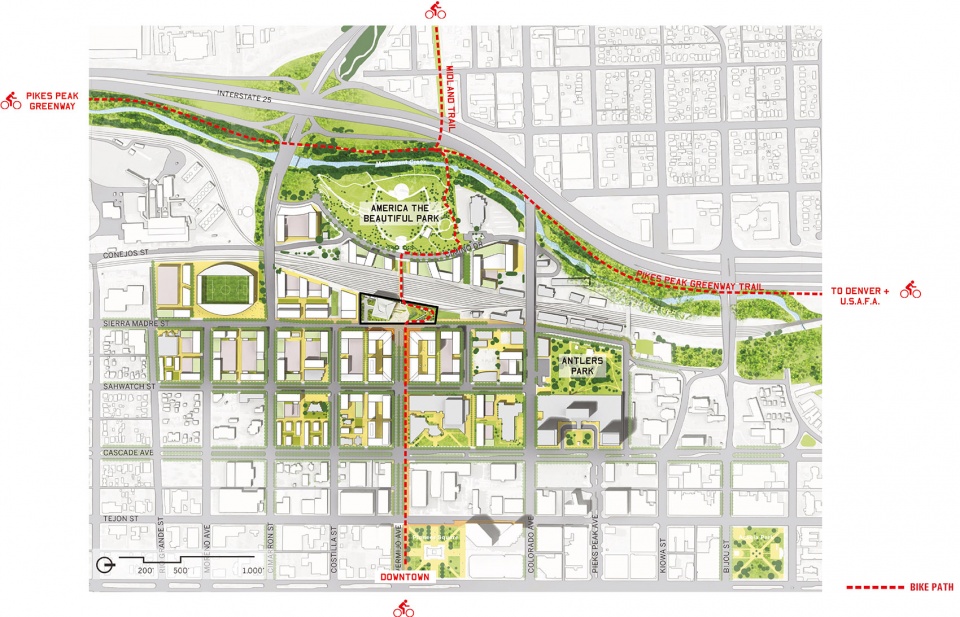 Location Plan © DS + R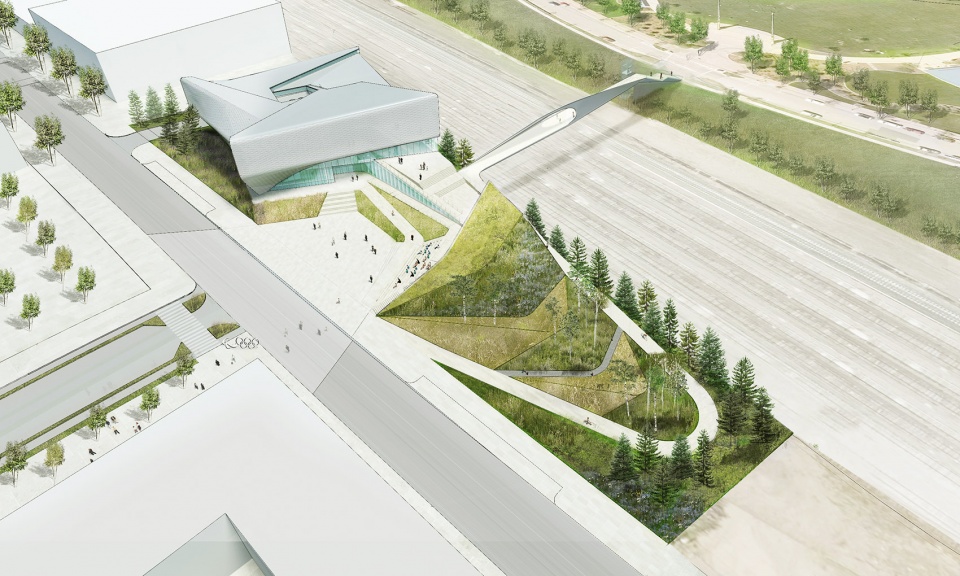 Perspective Drawing © DS + R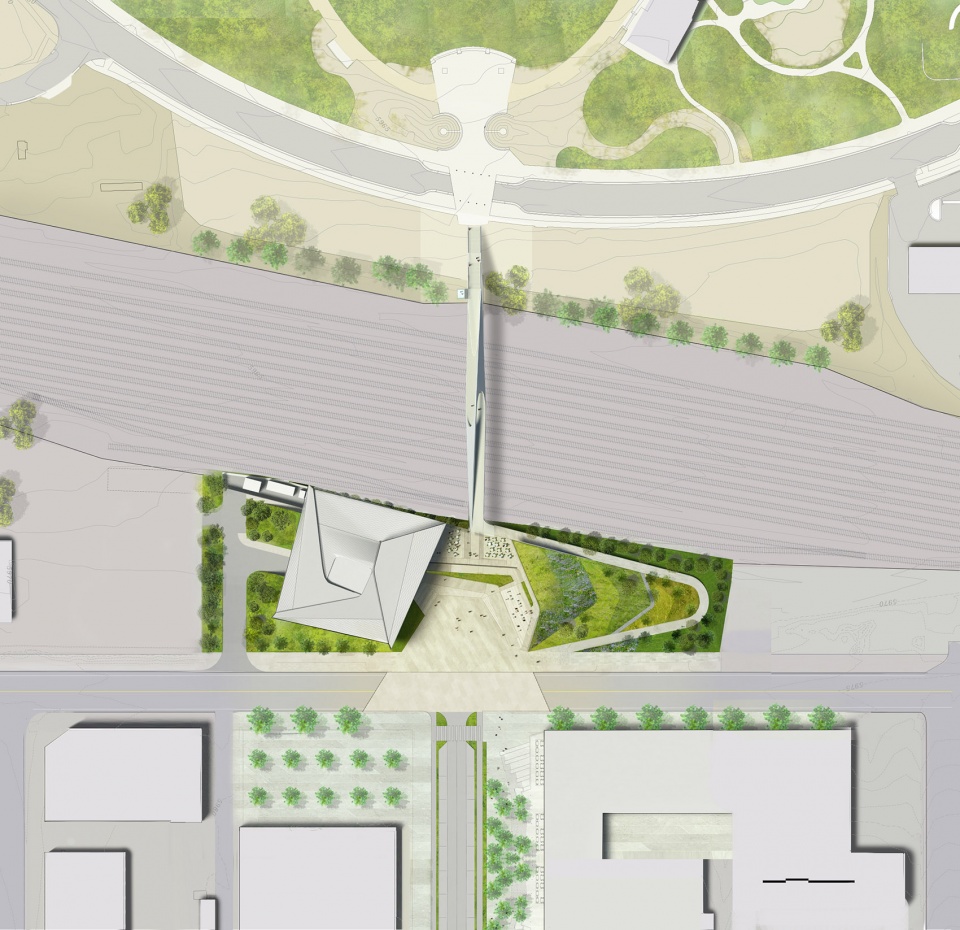 Master Plan © DS + R
标签
# Architecture Design
# 桥
About author
Comment
Case recommendation

More

(0)